(This story originally appeared in Times Of India on March 7, 2019)

CLAIM
Several Facebook posts going viral on the social media platform claim that Muslim women in Indore carried Kanwar (holy water) on the occasion of Mahashivratri.
The images accompanying these posts show a number of burqa-clad women lifting earthen pots.
The text of the post (originally in Hindi) when translated to English reads, "In Indore, during the festival of Mahashivratri, Muslim sisters and mothers lifted Kanwar wearing burqa. They wrote 'Om Namah Shivay' to celebrate the occasion."
The same claim with more or less similar text and images is being shared widely on Facebook by different users.
TRUTH

The images of burqa-clad women used to make this claim are from year 2015 and have nothing to do with Mahashivratri which fell on March 4 this year. Also, there is no truth in these Muslim women writing 'Om Namah Shivay'.
Back in 2015, several Muslim women, during the month of August, participated in a 'special Kanwar Yatra' in Indore. It should be noted that this was not during Mahashivratri.
The context given to these old images, therefore, is false.
VERIFICATION AND METHODOLOGY
Using reverse-image search on Google, we were able to find the images from the original incident as
reported by topyaps.com on August 28, 2015.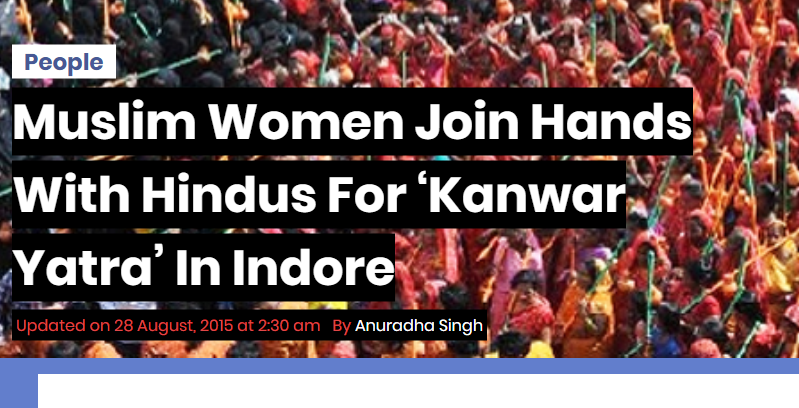 In a unique expression of communal harmony, a large group of Muslim men and women had participated in special 'Kanwar Yatra' in Indore. The yatra started at Madhumilan Chouraha and proceeded till Geeta Bhawan Temple of the city.
The group was celebrating the 'saavan' and had both Hindu and Muslim women. While Hindu women donned saffron attires, Muslim women wore black burqas, the report mentioned.
The report further quoted Union Minister Narendra Singh Tomar as saying that it showed the unity of the country.

VERDICT

Times Fact Check has found the claims of Muslim women celebrating Mahashivratri by lifting Kanwar to be false. Muslim women did carry Kanwar but it was in 2015 and not on the occasion of Mahashivratri.

Swiftype Reports